Well it's been years in the making, but Progressive now insures Small Truck Fleets.  Here's what you need to know:
What is Progressive Small Fleet for Trucks?
Small Fleet refers to the number of vehicles, not the type of vehicle.
A new Progressive Small Fleet policy can be written for accounts with 10-40 existing units.
If you have an exisiting Progresssive Commercial Auto Policy with 1-9 units, you grow into a fleet at the 10th unit.
You can continue grow your fleet to 60 units and still qualify for the Progressive Small Fleet Policy program.
Unit types can be anything from large semis and straight box trucks to smaller cargo vans and sprinters.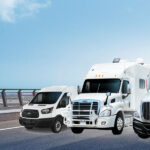 How is a Progressive Small Fleet for Trucks easier to get than other truck insurance policies?
Most truck insurance companies require an enormous amount of paperwork and data including your International Fuel Tax Agreement -IFTA records.   Your entire Business Financial History is also required, which can feel invasive.
Progressive Small Fleet Policy has an easier approach with different underwriting requirements:
IFTAs and Financials are NOT required when the requested radius is Unlimited. 
Instead, Progressive Small Fleet requests:
3 years loss run history

Future Estimates of total miles

3 years annual receipts   
What insurance coverage does Progressive Small Fleet offer?
Commercial Auto Liability

Non-Trucking Liability

Physical Damage
Additional coverage is available on a per state basis including Cargo and Reefer.
Progressive offers some of the best discounts in the industry including EFT or paid in full payments and Smart Haul.
[Related Story – What is Progressive Smart Haul?]
Progressive is the #1 Commercial Auto Insurer in the country and looking to expand their appetite beyond traditional smaller risks.
As a technology leader, Progressive gives preferred Truck Insurance Brokers a great deal of control on quotes and servicing of their Small Fleet policies.
Their online application is submitted directly from the Agent to Underwriting.  This removes the additional step of a General Agent and communications lag time.  With direct access to Underwriting your Agent can monitor the status of your quote in real time.
Progressive is also unique in the truck insurance industry in offering their own Heavy Truck Roadside Assistance Program.
Progressive insures Small Truck Fleets by first looking at Loss Runs
Loss runs continue to be the number one hold up of getting applications completed to the point that underwriters will actually look at them.  This is true for all truck insurance companies, not just Progressive.
When you request a Progressive Small Fleet proposal be sure to have your current 3 years prior loss runs ready with the tips below.  Progressive Small Fleet also allows mid-term proposals.
Here's 4 Loss Run Tips to help you get ahead of the game!
1.     All loss runs must include the insured's name to match the quote.
2.    All loss runs must be within 75 days prior to the requested effective date of the policy.
3.    The loss runs must include 3 complete years of history prior to the date at which the loss run is submitted to Progressive.  (So this can sometimes include 4 prior policies if this is a midterm quote request.)
4.    The loss runs must include line coverage, amount paid and reserved for the losses.  Understand what each loss was so that you are ready to talk with your CIS truck insurance specialist….she is your advocate to help you!
Bonus tip #5:
Submit your complete quote request more than 45 days prior to your effective date, and receive a 3% Advance Quote discount on your Progressive Small Fleet policy.
This new Progressive Small Fleet Program is great for any current Motor Carriers or FleetOwners tired of receiving their renewal proposals the day before their due date:) 
Learn more on how to get your Small Fleet Truck Insurance started HERE.
Whether you're a small fleet now or planning to grow into one, give us a call at CIS to chat.
We can help you save money with other discounts and tips, assist with networking and help you grow your fleet.