Google's simple answer is 'a vehicle used for carrying goods or fare-paying passengers'.  But because of FMCSA requirements and Broker Underwriting, the actual definition of a commercial vehicle can be confusing.
Here are some of the trucking for hire questions the Federal Motor Carrier Safety Administration (FMCSA) and your insurance broker get every day:
Is a PickUp Truck a commercial vehicle?
Is a HotShot Truck a commercial vehicle?
Is a Cargo Van or Sprinter a commercial vehicle?
Is a Box Truck a commercial vehicle?
Why is my truck considered a commercial vehicle?
Do I need a DOT for my commercial vehicle?
Do I have to register my truck as a commercial vehicle in my state?
FMCSA regulations can be long, so today let's focus only on what they say about trucking for hire vehicles.  Here's a short translation of  how FMCSA defines a Commercial Motor Vehicle:
FMCSA regulates that a unit is defined as a Commercial Motor Vehicle (CMV) if the gross vehicle weight or combined weight of truck and trailer is over 10,001 pounds and is used to transport property for hire across state lines.
In contrast, here's your Insurance Broker's simple Underwriting definition of what is a commercial vehicle:
A commercial vehicle is any vehicle used for business purposes.
Here's some answers to the most common questions of what is considered a Commercial Vehicle:
Is a PickUp Truck or HotShot Truck a Commercial Vehicle
A typical pickup truck is well under 10,001 GVW.  For example, a Ford F-150 is 4,021 to 5,740 lbs.  Most basic pickup trucks are not used to haul freight for hire across state lines, and FMCSA does not define them as commercial motor vehicles.   Your insurance broker will assist you in determining whether you're using your pick up truck for mostly personal or business purposes.
However, an Ford F-150 DUALLY weighs in at 6,764 lbs.  A Dually is a heavier pick up truck with dual rear wheels on either side.  This type of truck is often referred to as a one ton pickup.
A Hotshot Truck is a Dually with a trailer hauling freight for hire.  Typical loads for a HotShot Truck include heavy machinery and farm equipment or toys like motorcycles, boats, golf carts, RVs and trailers.  They can also haul 2,000 lbs in their truckbed.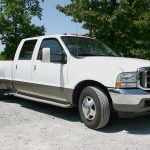 It's easy to see how a HotShot Dually and Trailer quickly surpass 10,001 GVW.
To haul across state lines, FMCSA will require you to obtain your own operating authority (DOT).  Your truck insurance broker will consider your operations commercial trucking for hire.
Is a Cargo Van or Sprinter a Commercial Vehicle
Commercial Vans are often used in the niche of trucking called Expediting.  HotShot and Expediting operations are similar because both haul freight for hire on a time sensitive nature.  Both Expediters and HotShots also tend to operate between 300 and unlimited miles.  But the expediter drives a cargo van or sprinter while the hotshot drives a dually.
[Related story – HotShot Insurance vs Expediter Insurance – What's the Difference]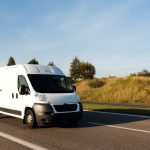 In the past, Sprinters and Cargo Vans weighed in at less than 10,000 GVW.  Today, newer units like the 2024 Mercedes Benz Sprinter can weigh up to 12,120 lbs.
FMCSA does not define a Sprinter or Cargo Van under 10,001 GVW as a commercial motor vehicle, but if you are hauling freight across state lines your insurance broker will consider you an Expediter or Trucking for Hire operation with a commercial vehicle.
To find the best commercial truck insurance start with 9 Tips for the Cheapest Commercial Van Insurance
When is a Box Truck defined as a Commercial Vehicle
Any unit over 10,001 GVW and hauling freight for hire is defined as a commercial motor vehicle by FMCSA.  Your insurance broker will also rate your operations as a commercial vehicle trucking for hire risk.
A box truck over 10,001 GVW hauling freight across state lines will require an Operating Authority, or DOT from FMCSA.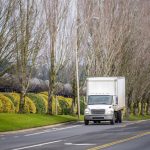 Most box trucks are well over 10,001 GVW, but are they over 26,001 GVW?
When the Box Truck is over 26,001 GVW, FMCSA will also require the driver to have a CDL, Commercial Driver's License. A CDL certification requires a higher level of knowledge, experience, skills and physical abilities than someone who drives a non-commercial vehicle.
Do I have to register my vehicle as a Commercial Vehicle in my state?
States can have their own different definitions of commercial vehicles than FMCSA.  For more help specific to you, find your state DMV here and FMCSA Insurance Filing Requirements here.
Here's some basic tips that apply to any state if you're a newbie looking to become an Owner Operator with No Experience.
For the Best Commercial Truck Insurance just give us a call at CIS.
While we have a special niche and reputation as the industry leader for Sprinter Van Insurance and Cargo Van Insurance, we insure all kinds of trucks.
We shop the best vehicle insurance companies to get multiple insurance quotes for you.  Whether you're a new start up owner operator or established small motor carrier, we will save you time and money.