Independent Contractors for FedEx Custom Critical own and maintain their own trucks and provide their own insurance.  As the Owner Operator of the truck, they have no designated route and can accept or reject loads.
 What kind of commercial truck insurance does a FedEx Custom Critical Owner Operator need?
Owner Operators hauling for the FedEx Custom Critical division are independent contractors and provide their own $1,000,000 NTL, Non Trucking Liability Insurance.
Non Trucking Liability insures the Owner Operator's equipment when they're not hauling on behalf of or for the benefit of FedEx Custom Critical.  Coverage application can be tricky, so watch our Understand Commercial Truck Liability video to learn more.
Owner Operators are under permanent equipment lease agreements with FedEx Custom Critical and are classified as 1099 Independent Contractors.
The Owner Operator's equipment can be a small straight truck, large straight truck or tractor.
Because the Owner Operator is an independent contractor, they also purchase the Physical Damage insurance for their unit.
Phys Dam is the Comprehensive and Collision portion of their commercial truck insurance.  Collision covers the vehicle if it is damaged by hitting something or turning over.  Comprehensive covers the vehicle for things like fire, theft, flood, vandalism, windstorm or animal hit.
How much does commercial insurance for a FedEx Custom Critical Owner Operator cost?
CIS/Atlantic Specialty offers FedEx Custom Critical Owners a $1,000,000 NTL, Non Trucking Liability policy for $27-$60 per month.  The difference in cost depends on the amount of UM/UIM/PIP the independent contractor chooses.
UM/UIM/PIP refers to Uninsured/Undersinsured Motorist/Personal Injury Protection sublimits.
Most FedEx Custom Critical Owner Operators we insure choose personal and business use state minimum at $29.44 per month for the CIS/Atlantic Specialty plan.
The Physical Damage premiums for the vehicle average between 2%-3.22% per thousand depending on the deductible.  Deductibles run between $500 and $2,500 per loss.
Other insurance providers understand the just in time risk of expediting and like to insure FedEx Custom Critical Owner Operators.  Progressive was and still is the industry insurance leader in the Expedited niche of freight.   Individually underwritten CIS/Progressive policies continue to offer competitive insurance packages for the FedEx Custom Critical Owner Operator.
Here's 10 quick tips to lower your Progressive commercial truck insurance premium.
Can a FedEx Custom Critical Owner Operator get Downtime Coverage?
Downtime is sometimes referred to as Extended Repair Time, and can be included on a Commercial Truck Liability and Physical Damage insurance policy.  The difference can depend on the insurance provider and driving history.
For example, an Extended Repair Time plan is already included in the CIS/Atlantic Specialty FedEx CC liability/phys dam plan, but requires 3 years of loss experience with an acceptable loss ratio.  It insures the Owner Operator's equipment for $3,750 per month for up to 180 days.  The maximum value of the unit insured is $250,000 with a $500 deductible.
The CIS/Progressive Downtime plan is a similar and competitive option for higher valued units with good credit, clean MVRs and any unit valued over $250,000.  The coverage can be added to a Progressive commercial truck policy and runs between $600-$1,000 per year.  The difference depends on location, unit type, driving history, etc.
What kind of medical insurance does a FedEx Custom Critical Owner Operator need?
FedEx Custom Critical Owner Operators are independent contractors and are responsible for their own Workers Comp or Work Accident Insurance.  The difference depends on the state the Owner Operator is based out of and that state's regulations.
Work Accident Insurance is sometimes referred to as Occupational Accident Insurance.
Work Accident or Occupational Accident Insurance can include Liability Limits of $1,000,000 per person and $2,000,000 per accident.  This coverage usually includes:
Accidental Death Benefits
Survivor's Benefits
Accidental Dismemberment Benefits
Accident Paralysis Benefits
Accident Medical Expense Benefits
Temporary Total Disability Benefits
Continuous Total Disability Benefits
How much does a FedEx Custom Critical Work Accident Plan cost?
FedEx Custom Critical offers an inhouse plan from Protective Insurance with payments deducted directly from settlement checks.    The contractor sourcing specialist can provide details of their insurance options.
Other companies offer competitive Work Accident Insurance for the FedEx Custom Critical independent contractor.  For example, the CIS/OneBeacon plan is straightforward with a per person monthly cost of $152 per month for tractors, $129 per month for Straight Trucks and $122 per month for Sprinters.
Can I haul for FedEx Custom Critical without my own truck?
FedEx Custom Critical is made up entirely of individual Owner Operators.  Sometimes Owner Operators purchase more than one unit and become Fleetowners who then need drivers.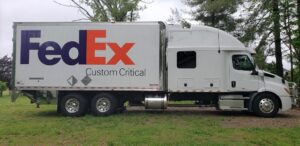 South Pointe Logistics is an excellent example of a very successful FedEx Custom Critical Fleetowner we insure who has grown from one unit to multiple unit types.  They and other fleet owners are always looking to fill large straight trucks and tractors with responsible drivers.  With a CDL and a desire to see the country, fleet owners are a great option for someone without their own truck to start hauling FedEx Custom Critical Freight.