Owner Operators who need Truck Roadside Assistance are often shocked at the exorbitant rates some towing companies charge.  Until now most insurance companies have shied away from offering roadside assistance to large trucks.  Progressive Commercial Truck Insurance has broken the barrier and is now offering Heavy Truck Roadside Assistance.
How much does it usually cost to tow a large or heavy truck?
Costs can vary dramatically, but generally the tow starts with a hook up fee of $250 to $500 and then $20 to $50 per mile. To make it worse, OverdriveOnline reports on multiple truck towing horror stories including $6,000 – $7,000 charges.
When it's just one Owner Operator against an unsavory towing company, it's difficult to fight an overcharged tow.  There is power in numbers.  And sometimes you may just need truck roadside assistance vs an actual tow to another location.
How does Progressive's Truck Roadside Assistance work?
Heavy Truck Roadside Assistance is an endorsement that can be added to an existing Trucking for Hire policy or included on a brand new quote for Owner Operators.  It covers up to $500 in labor costs and $5,000 in towing to the nearest qualified repair facility.
Progressive has invested a great deal of capital in vetting their network of over 100 truck repair shops.  Their in-house truck specialists can often arrange an inspection and estimate for repairs in less than 24 hours.  Obviously claims are even faster when your truck is towed to and repaired at the same facility.
Progressive partners their Heavy Truck Roadside Assistance Program with TNN Fleet Solutions for coverage 24/7, 365 days per year.
If you have Small Fleet Truck Insurance, you can choose to insure 1 or all of your trucks from local to long haul.
What coverage does Progressive Truck Roadside Assistance include?
Mechanical or electrical breakdown
Battery failure
Insufficient fuel, oil, water or other fluid
Flat tire
Lock-out
Entrapment in snow, mud, water or sand within 100 feet of the road or highway
How much does it cost to add Truck Roadside Assistance to my Progressive policy?
Premiums to add Heavy Roadside Truck Assistance are running between $113 to $235 per year depending on type of truck.
How do I add Truck Roadside Assistance to my policy?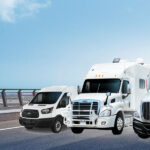 For the Best Commercial Truck Insurance you need a professional Truck Insurance Broker who understands what you do and is there for you when you have a claim.  You also need an agency that is small enough that everyone knows your name and personally cares about you and your well being.
You should be able to pick up the phone and get through to someone you know and ask her to add Roadside Assistance to your policy or quote a new policy for you with that coverage.
Everyone has had a vehicle break down.  It only takes a quick phone call now to save a lot of headaches and cost when that inevitable claim occurs.
Give us a call at CIS, we'd love to chat with you!