A couple of weeks ago Shelly Benisch and John Mueller were playing hooky at a cute little coffee shop when we stumbled on an interesting pattern within both CIS and The Transportation Station.   More Owner Operators were getting their own DOT Motor Carrier authorities to haul for themselves.  We sipped and chatted and agreed that we didn't know WHY it was happening…it just was.
We all know there's an understandable amount of trepidation when venturing into the maze of  FMCSA DOT business registration
The cost and how to even start a new DOT authority

How long will it take to complete the process

The required base plates, ELDs, IFTAs, 2290's

The cost of truck insurance as a new Motor Carrier
Then
Will there be steady work

Will there be less profit

How hard is it to get paid…
Let's face it.  It's simply EASIER for an Owner Operator to lease on with an established Motor Carrier.  Dispatchers and other staff are there to set up the runs, charge the customer and collect the pay.  All of which is not easy to do.
So what had changed where so many were motivated to make their own DOT authority plunge NOW?
Well the more we chatted about it, the more we became curious and decided to do a little exploring within our own client base.
Here's what we found on why Owner Operators were getting their own DOT Motor Carrier authorities:
Some Owner Ops shared that they were finding a certain comfort level with APP based communications enabling direct access to freight instead of the prior broker approach.
We're told that Riteload, Uber Freight and FRAYT are all humming along.
A few Owner Operators simply decided that they could make more money with a better standard of living by switching to last mile delivery or regional delivery versus long haul.  They believed now was the time to generate their own customer base.
Given the number of hub and spoke Freight Distribution Centers popping up that is certainly possible.
Several Owner Ops mentioned positive articles and reports from JB Hunt, FleetOwner,  Overdrive, Movin' Out, etc… and thought this was a good time to give it a shot and get their own authority.
A common thread of inspiration came from both the TEAM Run Smart blogs and online video stories shared by successful Owner Operators like Henry Albert who had "made it on their own" to become Motor Carriers.
(There is also the noteworthy LIVE Smart within the website that shares unique and healthy tips for life on the road.)
Another helpful Owner Op pointed to the daily free online truck tips and resources available through Top 100 Trucking blogs and Websites.
But the majority of Owner Operators were guided by their prior contracted Motor Carriers who were switching from a traditional "leased on" model to a "co-brokering" contract setting up a new Free Agent Owner Op model.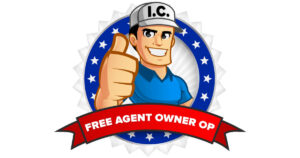 In simple terms, the Free Agent Owner Op model is utilized by existing Big Motor Carriers who no longer wish to provide primary insurance for leased on Owner Operators.   Each driver establishes their own DOT number as a true Independent Contractor and provides their own primary insurance.
As the insurance obligation shifts from the Big Motor Carrier to each individual Free Agent Owner Op there is a subsequent increase in compensation to that Independent Contractor.  Many continue to haul just for that one Big Motor Carrier's broker side while others choose to also haul for additional entities.  It's dependent on contracts.
One "Big" Motor Carrier choosing the "Free Agent Owner Op" model shared his fear of the current threat to the traditional Independent Contractor status via the "ABC test":

"Look, we're heading into a sinkhole with our current Owner Operator model. The way I see it, drivers who are free to haul for numerous entities are no different than other free agents bidding their time and talent.  We need to change if we want to get out and win."

*****************
Read more from James Jaillet with Overdrive regarding "Legislation that would, in effect, bar companies from hiring independent contractors to perform tasks that are part of the business' core function…"
**************
It's important to note that very few of the Owner Operators we worked with were brand new drivers.  Most were currently insured Owner Ops who had been leased on with Motor Carriers for  several years and had established their own credit.
This in turn produced a reasonable premium for their truck insurance that is rewritten from Owner Operator to Motor Carrier.
These new Motor Carrier applicants also had a good understanding of the trucking industry when they decided to establish their own new transportation companies…they weren't "newbies".
Many were also establishing a Corp or LLC and utilizing additional professionals like accountants or attorneys.  They understood that running their own Motor Carrier business was a professional full time job.
*****************
So a week went by and Shelly B and John M chatted again…
Were we the only ones noticing the uptick in Owner Operators getting their own DOT Motor Carrier authority to haul their own freight?
Who is the number one expert in trucking market analysis?
We decided to reach out to Craig Lack with Carrier Software – The Motor Carrier Data Specialists
Craig is the "Data Wizard" of FMCSA and DOT statistical analysis for the truck insurance market.
Here are the stats:
2016   104,741 new DOT registered Motor Carriers

2017   115,003 new DOT registered Motor Carriers

2018   143,216 new DOT registered Motor Carriers

2019     80,400 new DOT registered Motor Carriers as of 7/9/2019…
****************
So bottom line, these Owner Operators we talked with are now operating as Independent Contractor Motor Carriers under their own DOT authority.
Some plan to strike out on their own to haul freight generated from APPs or established connections for Last Mile Delivery.  But the majority are still hauling for essentially the same entity as when they were leased on Owner Operators and believe they make more money with more freedom under a new contract as Free Agent Owner Ops.
Will all Owner Operators eventually become Free Agent Owner Ops?    Not necessarily.  There are still plenty of Owner Operators very happy with leased on agreements to one Motor Carrier.  There are a lot of benefits and less challenge with the "mother ship" providing the loads from an established customer base.  But either way, it looks like the Owner Operator is finally in the driver's seat:
ATRI reported driver shortage as the number one industry concern.
ATA estimated that 160,000 driver positions will go unfilled over the next 10 years.
It appears that the value of skilled Owner Operators should continue to expand.  Supply and demand promises more options, compensation and respect to future professional drivers like no other industry.
****************
Berkshire, Northland and Progressive are all receptive to new startups, with other truck insurance companies accessible when there is prior experience and existing NTL insurance as a leased on Owner Operator.
Truck insurance rates still vary from state to state for all insurance providers.
CIS Owner Operator Truck Insurance 101 explains that Primary Commercial Auto insurance insures 24/7 which replaces the prior Non-Trucking Liability you probably carried in the past.  Your insurance will cost more because it will include a promise to the public in the form of an MCS90 and 91X:
[Related Story – Save Money on your New Venture Motor Carrier Insurance with these 9 Questions]
Your insurance company will post your new certificate of insurance with a 91X on FMCSA SAFER so that brokers and customers can see that MCS90 endorsement is in place.
When every driver has their own DOT authority, there is far less exposure to Uninsured Units or the need for Hired Auto coverage.
To eliminate surprises, call your insurance pros to get an idea of what your costs will be BEFORE you establish your DOT.
The ladies at CIS can help you…they love to chat:)
Closing thoughts from John Mueller, CDS, The Transportation Station:
When you decide to start up your own DOT authority, look for more than a typical permit agency which has limited resources.  As a new Motor Carrier you will likely need consultation and guidance to get through an FMCSA New Entrant Audit (Compliance Review.)
Spend your time and energy focusing on safe driving and generating income.
Save yourself a lot of  headaches and get a professional safety consultant to navigate DOT regulations and start managing that CSA score right when you form your new company.
Look for a certified NATMI "CDS" pro, for "Certified Director of Safety", experienced in technical licensing, tax, registration, recruiting, consultation, safety and compliance services.
Whether you plan to operate under the Free Agent Owner Op or Traditional model, you are responsible for your own CSA score.
…And you may find there are better avenues to avoid dealing with lagging CSA scores such as those caused by drivers no longer driving for you.
*****************
Well thanks for joining us for our coffee shop chat.   Shelly B. & John M. wishing everyone a Safe and Sunny Summer…talk with you again after our next "hooky" from work day!
Written by Shelly Benisch, TRS, CIC, Commercial Insurance Solutions Inc. (CIS)
AND
John Mueller, CDS, The Transportation Station