Any Owner Operator venturing out to become a new Motor Carrier wants to save money on his truck insurance.
Right now you're probably driving your truck hauling freight for hire while "leased on" to a large Motor Carrier.
If it's time for you to establish your own Motor Carrier authority then read on:
Truck insurance for a "leased on" Owner Operator is very different than truck insurance for a Motor Carrier.
Most of the insurance responsibility shifts from the company you've been "leased on" to…to YOU.
What type of Truck Insurance does a new venture Motor Carrier need?
The type of Truck Liability Insurance you'll need will change from "Non-Trucking Liability" to "Primary Commercial Auto Liability".
When Cargo Vans, Sprinters, Hotshots, Straight Box Trucks or Semis are hauling freight across state lines they are required by FMCSA to carry minimum limits of insurance.  The limits are based on unit weight and type of freight.
Cargo Van Insurance and Sprinter Insurance can be especially tricky.
FMCSA is the Federal Motor Carrier Safety Administration.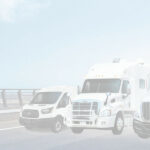 You will also be responsible for insuring the Cargo you are hauling.
Some of your customers will also require that you carry Truckers General Liability Insurance.
Some of the FMCSA terms and coverage details in establishing new venture Motor Carrier insurance can be confusing.
To become familiar with the lingo, here's a cheat sheet in Owner Operator Truck Insurance 101.
Because esablishing a new DOT authority is confusing, it's best to work with a professional Truck Insurance Broker who can walk you through the process free of charge.
[Related story – Who has the Best Commercial Truck Insurance?]
New venture truck insurance options are limited
Hard to believe, but truck insurance companies have not been profitable for years. So there are a limited number of insurance providers willing to insure any transportation companies.  A new trucking entity will undergo more extensive underwriting than a known risk.
This simply means that when your new DOT Authority is granted by FMCSA, a prior "Owner Operator" now becomes a "New Venture Motor Carrier" in the eyes of insurance underwriters.
Insurance companies WANT to write solid new business with stable financials, good driving history and a plan for safety.
Just ask yourself, "Are you somebody you would want to insure?"
Underwriting will ask several dozen questions about your new venture Motor Carrier insurance, but here are 9 important ones to get you thinking.
Then call your CIS professional Truck Insurance Broker. We're here to help you save money and grow your business.
Answer these 9 questions correctly and save on your Motor Carrier Insurance
How long have you had commercial driving experience?
What companies did you drive for…and how long?
What commodities have you hauled in the past?
What routes did you regularly take?
How will this new operation be financed?
* What type of growth do you expect in the first 12 months?
What will be your hiring practices?
Do you have a vehicle maintenance program in place?
What is your anticipated Gross Receipts and Mileage?
*CIS Quick Truck Insurance Tip:
Underwriters do NOT want to see a lot of growth the first year.
[Related story – 10 Quick Tips to Lower Your Trucking Insurance Premium]
Watch our CIS Trucking Insurance Videos to learn more about Motor Carrier Truck Insurance and the difference between Non-Trucking Liability and Primary Liability.
…and if you're already a Motor Carrier and ready to grow read about Small Fleet Insurance  first before you make the plunge!
Give us a call at 330.864.1511…we'd love to chat with you!